For the first time, the Brazilian public will be able to enjoy the delicious shows of Delvon Lamarr Organ Trio. Formed in 2015 in Seattle, the trio makes a contagious mix of soul, jazz and funk with a 1960s vibe. Amy Novo, formed his own band.
He says with a laugh that Amy got tired of hearing him complain and declared "build your own band, I'll do the rest". Luckily for us, she was heard and the trio became hits, with 3 albums released, Live at KEXP! (2018), Close But Not Cigar (2018) and the most recent I told you so (2021, Colemine Records).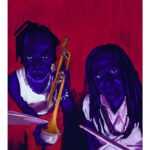 Currently the DLO3 It's formed by Delvon Lamarr (Hammond B3), Jimmy James (guitar), Dan Weiss (drums) and makes a delicious cocktail of Stax with Motown, a dash of Jimmy Smith, seasoned with Booker T. and The MG's e The Meters. The chemistry between the musicians is very good and all these influences are interpreted and mixed to create a very characteristic sound. Lamarr, very nice, gave an interview to this column:
Adriana Arakake – A few years ago, Herbie Hancock declared that jazz had returned to being underground, now your record is a success, it is at number one on Billboard and you traveling to so many places in the world, taking your music. What do you think has changed?
Delvon Lamarr "Well, I agree with Herbie on that, but not completely. The difference is that we don't just make jazz, of course we are very influenced by jazz, but we cross several borders of sounds that appeal to the public. If you think about bebop, pure jazz, for example, it's really underground nowadays, but we can't forget that there are a lot of people doing different things based on jazz. People like Robert Glasper, Cory Henry… are jazz, but not just jazz.
AA – Is the public returning to like jazz? Even if it's not pure jazz?
DL What a difficult question (laughs). Maybe… Depends on the type of jazz. People have a hard time with instrumental music these days. People can't relate to music like they used to and it's changed so much that a lot of people don't seem to understand music without vocals.
AA – Jazz is the expression of the struggle for freedom and rights of black people, once I read that the artist who most influenced you was Coltrane, has anything changed since Alabama, for example? Or are we at exactly the same point?
DL – I wouldn't say that we are exactly at the same point, as there are still unresolved issues. It's definitely not like before, but there are still problems. If you take, for example, the right to vote, it's something that people have fought for decades in the past, for equal rights. Today blacks and women vote, this is different. Some things stay the same, some don't. It's like when someone has a problem but doesn't admit they have it and then that problem can't be fought, that's exactly where we are today.
AA – What do you think of Brazilian music?
DL – I don't have much experience with Brazilian music, mainly because I don't know who to listen to, what to listen to. I've heard João and Astrud Gilberto with Stan Getz, but I didn't delve deeper because I don't know where to start. If you can give me some tips, I would be very happy and would love to know what to listen to.
Of course I promptly gave the tips and I hope he enjoyed it. The DLO3 shows will take place here in São Paulo, at the renowned concert hall Bourbon Street, today November 10, within the schedule of Bourbon Street Fest, which will still feature the concerts of Jon Cleary Trio (11) e Gary Brown (14). And the 13th and 14th, in the traditional Rio das Ostras Jazz and Blues Festival. The festival takes place from the 12th to the 15th of November and will have numerous incredible attractions such as Eric Gales, Azymuth, Black Rio, Keith Dunn & The Simi Brothers, between others.
Unmissable.
We would love to say thanks to the writer of this post for this remarkable material

We interview Delvon Lamarr, who is on tour in Brazil