Write about Marcos Valle for this columnist who speaks to you it is something really exciting. This immense artist, active since the early 1960s, when he assembled a trio with Dori Caymmi e Edu Lobo, in constant renovation, attracts a young audience to this day and is a legend. gave me a delicious interview, we talked about hits, new album and much more.
Marcos Valle was born in Rio de Janeiro, on September 14, 1943. He began studying classical music at the age of six and in 1962 released his first LP in the company of his brother Paulo Sérgio Valle, with whom he developed numerous works. Author of several hits, among them Stellar, Bike e samba from Summer, initially launched by Walter Wanderley, in 1966, reached No. 2 on the US hit charts at the time, making Valle increasingly well-known. The song has been re-recorded by numerous artists including the instrumental versions of Duke Ellington, Dizzy Gillespie, Ramsey Lewis, Oscar Peterson, or my favorite version, straight out of Hammond from Brother Jack McDuff.
This is just a very small summary of the work of this gigantic artist, who once declared that he doesn't enjoy living with nostalgia alone, has a long and wonderful road and is in constant modernization. Proof of this is that, even today, it is extremely popular with young people. On December 3rd and 4th, he can finally present to the public live, at Sesc Pompéia, some compositions by the groovado All time (2019), first of unpublished since the highly praised Statistic(2010); and mainly from Gray, album released in January 2020, has compositions in partnership with emicide, like the one that gives the disc its name; well gil e Moreno Veloso, participated in the delicious show, which also featured Patricia Alvi on vocals. Grey, brings political messages and speaks of love, typical of the artist's style.
Here's the delicious interview with the living legend Marcos Valle:
Adriana Arakake: How was the pandemic for you? It produced a lot!
Marcos Valle: A lot! I made a lot of new music, I must have made at least forty songs at least. For example, with Ivan Lins e Joyce, we recorded the song called "Casa que é meu", each one recorded at his house, I produced it for a record company called Deck, Ivan and I wrote the song and Joyce wrote the lyrics, and the whole band, each one at his house, then we mixed , this was released on digital platforms. Also, I made songs for Heaven, for Silva, pro Francis Hime; and then the Marcus Black, who is a producer, put me in touch with Emicida, when I made the album Gray, he gave me the idea of ​​partnering with Nando Reis, Nando really wanted to do it, I'm a fan of his, the result: we did a project together, with ten songs, which is a project for the next year of an album, I mean, I'm already in the process of doing this project; there's an album for Europe, I also wrote some songs and anyway…there's more. But basically, we did that, I got a lot of projects for next year, so I didn't stop.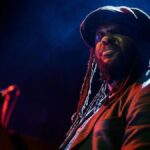 AA Lots of artists did that right? Each one in their own home, they adapted
MV Yes! Many partnerships emerged because of this. Joyce herself, Emicida too, we wrote a song for Alaide Costa, who is going to release an album with his production, so I did several, many things, of course I missed the stages, but there were the lives, which were good company, it was interesting and so I went on and thanks for being able to make music and be alive. To have survived and to have music as a companion.
Is AA Show With Audience First?
MV Mine is the first. Actually, the only thing I did before was with Emicida, because he has a song on his record, Little Joys of Adult Life, which I'm also one of the authors, so we did a gig for the Latin Grammy because he won the I gave a prize and I did a presentation for the Festival de Montreux, it was also in person, in Rio and it was just instrumental, me and (Roberto) Menescal, with a band, with all the care, but this last year, this year, it's the first with an audience.
AA And how is the emotion?
MV I'm super emotional, really, I was apprehensive, at the same time I was very happy, very anxious, a mixture of fear and excitement, how is it going to be? will the voice come out? am I going to… it's such a thing, it will be, it will be (laughs) , so until the time, until we rehearse and especially at the time of the show, but it was so good, it was a very strong emotion, the audience was wonderful. When I got home I said: Oh my God, thank you very much, this stage was won, it was very strong, very strong.
AA I once read an interview where you said you didn't do drugs because that was your drug
MV It's true, I only drink wine, my drug is the stage.
AA Even more now right?
MV Even more now! All in all, this coming back, this is all really impressive, I could see it at the show yesterday. It's funny that I mentioned this to Moreno (Veloso), when I arrived at rehearsals, he hadn't arrived yet, I was with the band, I suddenly stopped to say: how good it is for us to be making music, how good it is. Moreno arrived a half hour later, we started rehearsing again, he suddenly stops and says: people how good it is to make music again. Because it's very strong, this feeling, the dialogue with their musicians, really, beyond the stage, that's my drug really.
AA You are one of the artists that has a more perennial work and that even today pleases the young audience a lot, what is the recipe? Partnerships with new people, constant renewal?
MV I think, Adriana, there's a mixture of things there. These partnerships with new artists, I think part of the following, my music is very formed by several elements, because I've been interested in music since a little boy of 3, 4 years old, and I listened to everything from popular to classical music, studied classical piano, but I heard a lot, frevo, baião, samba song, carnival march, I loved everything, the rhythms, and I listened to a lot of jazz, I listened to rock, so I started, from a very young age, to form my own style, filling in that information, of the things that I liked, so it formed a style, this style is very much formed, at the same time, by the harmonies and melodies, but very much by the rhythm, which I've always really liked the rhythm, the groove, the drums, this mixture, I I think that's what started to interest the new public, after Bossa Nova, after Tropicália and until today, because there were different elements there, dancing, which are natural things of mine, one thing was pulling the other, of course later came the interest of DJs, from the new composers s and then I was also very interested because I like novelties, mixtures, partnerships, one thing led to another and that was it, it developed and is part of it, the more I do with people I admire, the better.
AA Jazz is Dead came out now too right? Last year
MV Exactly! There were 3 different albums, the first one was called Semper, which went to Europe, which I wrote all the lyrics and which was more danceable, Gray with all these partnerships and there was Jazz is Dead which I recorded for five days there in Los Angeles, which is another thing, so, this is what I say, my music is versatile and can give rise to things like that.
AA Tell us a little more about Gray, these shows here at Sesc are basically about this album, aren't they?
MV Yes, we were going to do this show here before, the album was released a little before the pandemic, but it couldn't be done, it was suspended, now this opportunity has been painted, I thought, well then the band is formed, let's go to put several songs from the album and guests, right, we thought about the guests and the idea came from Moreno and (Well) Gil, each one of them has a song on the album and I love them, I had already done a show with Moreno, never with Ben, we I had already talked, that in other times, they are adorable, they were very happy to do it and that's it, we rehearsed with them, we set up the repertoire in a mixed way, with songs from Gray and others from other times and we set up the show, I reactivated the arrangements that I've done, that they work really well on stage and they really have a stage life, a very strong stage life.
AA There are some hits that can't be missed, Marcos?
MV Oh no (laughs) that can't! We have to put it together, I put together some songs that have to do with Gray, which has the groove, there's Estelar, which goes well, Freio Aerodinâmico goes very well with Mentira, they fit well, assemble well with the new repertoire , so it's important, the audience wants to hear it, so I try to make these mixes.
AA I'm not going to ask you what has changed because a lot must have changed, but is there anything you've kept since you started? Your way of composing or creating? I always saw you as a very solar guy.
MV Look, even when I made Gray, because it's a balanced, grooved record, but I named it because of the moment we're going through, I'm not talking about the pandemic, I'm talking about the political moment, this thing against the arts, against culture, that's when I looked for a name that symbolized what I was imagining, because I'm solar, I like joy, I'm Summer Samba, and this thing against culture is a gray moment, but I I'm still solar, very optimistic, I've always been very positive, I always think that things will change and change, in fact there are phases, like these, we get depressed. Of course, I'm touched, but I keep my positive side and keep this kid thing inside me a lot, this child, I really have that, I have a child's soul, I like to play, I get emotional about things, I go from crying to joy, always very sensitive. For example, when I do a show, like now, I have to control myself, if I don't go dancing and screaming (laughs), like a child who thinks what a wonderful toy. So if I have to summarize this, I kept my optimism, youth of soul and interest in the new, because I know what I like, what I can come to like and carry out these partnerships, I think I keep it the same. Now, today I have more pleasure on stage than when I started in my career, because when you start, of course, there's the novelty, but the fact that I'm almost 60 years old, on stage and doing things, I I value it even more, nowadays I value it like that… so you can imagine my joy and emotion when I came back.
This is Marcos Valle, extremely talented and, to top it off, absolutely solar and gentle, a lord, characteristics that make him so dear to this day. It presented, as always, a wonderful show, the audience was thrilled. I don't think I'm more emotional than I am after this interview, because just like he does after shows, I also had to control myself not to go dancing. But my soul was celebrating this interview, music and art. Always she who saves us, even in gray moments. Live!
We would love to thank the author of this short article for this remarkable content

"I'm still solar" says Marcos Valle in an interview about life and career